Gone are the times when you had to print loads of printed copy bills, stuff them into parcels, and mail them to your clients one at a time. We now live in a modern era, so you don't have to spend your valuable time in preparation for physical bill copies.
The use of cloud-based technology has begun in almost every business segment due to its vast set of benefits. It includes the use of cloud accounting software too. 
If you own a small company, you can consider buying an online Accounting Software for Enterprises to streamline the procedures and slash costs by up to 80%. Spending resources on paper, ink, and inefficient printing equipment is a waste of money. You only need automated invoicing options.
Today, we have brought you the most only five reasons to adopt the small business owner's online invoicing software.
5 Reasons answering Why small businesses adapt Cloud Accounting Software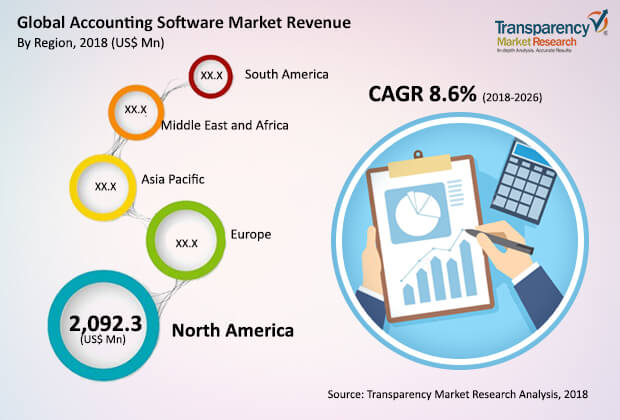 Region-wise Market revenue of Global Accounting Software Market 2018 (Source – TMRA)
The online accounting business is expanding; according to one estimate, by 2026, the global financial software market could reach $11.8 billion. This demonstrates that Online Billing Software is poised to become the smartest thing for the business of every scale. You may find the Best Business Financial Reporting Software – NOW if you don't have any!
Optimized Workflow and Streamlined processes
Since small firms have fewer workers, manual invoicing will slow down the workflow. Fortunately, using Cloud Accounting Software, you can build invoices quickly, and there are fully prepared samples that you really can fill out.
You may use an invoice template for Google Docs or import and update invoice models for Microsoft Word, PDF, or Excel. Since it contains prefilled info, the sample invoice prototype can provide you with ideas. Moon Invoice, for example, would cover the automated billing automation workflows.
Another benefit of Accounting Software for Enterprises is that it is simple to maintain track of purchases and receipts. You will use these methods to guarantee that the customers settle their bills on time.
There's no reason to sift through drawers for hours looking for invoices. You will use the web portal to access your online receipts with a single click of a mouse. Furthermore, in a matter of minutes, you will send a single digital invoice to several recipients.
Reduction in the error 
When preparing invoices manually, there is a greater chance of having a mistake. It is swift to insert numbers and prices wrongly. Is this so with automated processes as well? It all relies on the kind of network you're using.
Any Online Invoicing Software can fill up those fields on your invoice for you, so you don't have to. If you enter all of the client and consumer details into the framework, it would immediately insert personal information into the document, thus eliminating the mistake.
Pricing may be performed in the same manner. Per customer is unique, and some are paid at different rates. Consequently, it would be best if you had a mechanism that can classify the customers' prices such that the numbers in the invoices are still correct.
The benefit of Invoice customization with Templates 
Are you very particular about marketing when it comes to your business? Perhaps you'd like to have the company's branding on the receipts so that customers know where to send their payments. 
In Accounting Software for Enterprises, there is a facility of editable invoice templates, so you may alter the color of the headers or apply the company's branding to the paper.
You can delete boxes and lines to streamline the text to make it easier to read and comprehend if you choose a particular style. You may also make your prototype to make things easy to deal with if you decide to send out a text.
The most apparent – cost parameter
It is costly to print hard copies of receipts. To complete the job, you must purchase paper, ink, and expensive printing technology. Being frugal is essential for any business owner and especially for small business owners. So, why spend money while you can save money by utilizing the Best Business Financial Reporting Software, which fits the budget too.
Businesses can minimize storage expenses as well because hard copies of invoices will no longer be needed on-site. Instead of invoicing consumables and operating costs, you can use your money to grow your company.
Company's Financial Tracking becomes easy
Any business requires accounting reporting for tax purposes and to keep track of the money moving in. This helps you see where you're profiting and where you're wasting revenue, helping you make smart financial choices about your organization.
Any Online Invoicing Software has data monitoring, helping you track your account to see through invoices are still due. Ideally, you want a website that allows you to view any invoices' financial state to see which customers have unpaid accounts.
Your accounts department would make more choices on managing a client's account, making debt collection more straightforward. Get the Best Business Financial Reporting Software NOW! 
Bottom Line
Furthermore, the corporate world is shifting, and you don't want to be pulled aside. With rising market rivalry, every wrong or bad decision will set you back. Businesses greeted the massive increase in technology with open arms.
Cloud Accounting Software has emerged as the most recent smart key for business development. Moon Invoice, the online billing program, generates and sends invoices while efficiently managing the enterprise.
It is more helpful to use if it has functionality unique to your company's style, such as Customized Accounting Software for Consultants or Accounting Software for Enterprises. You will quickly tailor it to meet the company's requirements and utilize the app with ease.